Clifton A. Baile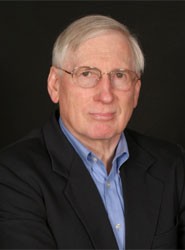 Georgia Research Alliance Eminent Scholar in Agricultural Biotechnology
Clifton Baile's distinguished career includes more than 35 years of experience at Harvard University, the University of Pennsylvania, the University of Georgia, SmithKline Beecham and Monsanto Company. He has participated in the founding of seven companies and currently serves on the board of directors of AgGlobalVision, Inc., Angionics, Inc., AptoTec, Inc., InsectiGen, Inc., MetaMorphix, Inc., Oncose, Inc. and rPeptide, LLC. He is also a member of the Georgia BIO Board and the Louisiana Gene Therapy Research Consortium.
Prior to joining UGA, Dr. Baile was a Distinguished Fellow and Director of Research and Development, Animal Sciences Division for the Monsanto Company. His department successfully developed an injectable bovine somatotropin with a two-week delivery system for dairy cows. Dr. Baile has successfully directed drug research and development projects from the discovery stage to FDA approval and commercialization.
Dr. Baile has served as a consultant to more than 20 companies, including several in the top Fortune 500. As chief executive officer and chairman of the board of AptoTec, Inc. and InsectiGen, Inc., he provides management for the research, development and commercialization programs.
He has coordinated the Georgia Research Alliance's program in Agricultural Biotechnology at the UGA. This program has dual goals of conducting leading-edge research and seeding start-up companies to commercialize animal and plant biotechnology in Georgia. A GRA Eminent Scholar, Dr. Baile served as a member of the board of trustees of the Georgia Research Alliance to represent other scholars.
In 2002, he won the UGA Lamar Dodd Award for recognition of outstanding body of scholarly and creative activities in the sciences. The following year he was presented a community award by the Georgia Biomedical Partnership for "putting UGA on the map as one of the most active biotech business incubation centers in the Southeast." In 2007, he was awarded the McPherson College Alumni Citation of Merit.
He is known internationally for research on the control of feed intake and the regulation of energy balance in animals. His contributions include approximately 350 journal articles, 300 abstracts and presentations for scientific meetings and 17 patents.
Dr. Baile received his B.S. degree in agriculture and business from Central Missouri State University in 1962 and his Ph.D. in nutrition from the University of Missouri in 1964.