Anna V.A. Resurreccion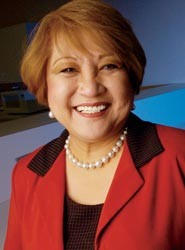 2006 D.W. Brooks Award for Excellence in Global Programs
Department: Food Science and Technology
Anna V.A. Resurreccion, a professor in the department of food science and technology, has distinguished herself for significant contributions to international research and for exceptional creativity. She has been instrumental in globalizing the College of Agriculture and Environmental Science's peanut processing and utilization research program. She developed and leads a research program on methodologies for measuring and quantifying consumer preferences and sensory quality of food, using this information to design, develop and optimize food products for global markets.
As principal investigator or co-investigator on five USAID Peanut Collaborative Research Support Program projects in the Philippines, Thailand, Egypt and Bulgaria, her research achievements over the last 20 years include the development of:
A peanut industry incubator model for the successful transfer of peanut processing technologies to food companies and their commercialization,
Fortified peanut butter processing technologies to prevent blindness and alleviate vitamin A deficiency in underdeveloped countries, and
A technology for blanching and sorting of peanuts to minimize aflatoxin, a potent carcinogen, to deliver safe peanut products globally.
Transferring technologies to local processors in the Philippines and Thailand developed micro- and village-scale peanut processing enterprises, improved the quality and packaging of peanut products and increased profit and household incomes.
Dr. Resurreccion has published over 130 peer reviewed journal articles, seven chapters, two books and over 500 technical and scientific articles and is the recipient of numerous international, national and regional awards, including the 1996 D.W. Brooks Faculty Award for Excellence in Research. In 2000, she was named fellow of the Institute of Food Technologists for contributions in the field of food science and technology. She was a distinguished lecturer for the IFT and served as associate scientific editor for the IFT's Journal of Food Science. Anna has garnered more than $8.5 million as principal or co-principal investigator on funded research contracts and grants. Evidence of her international reputation and prestige is found in her participation as a speaker or author of 324 presentations worldwide.
One of Dr. Resurreccion's recognized strengths is the training she has given to her graduate students, 15 post-doctoral associates and 16 visiting scientists who came to her Griffin, Ga., laboratory to train on sensory evaluation and quality measurement methods. These scientists, who represent 13 countries, returned home and assumed leadership roles. It was mainly this group of individuals who provided letters of support for her nomination for this prestigious award.