Jonathan 'Tim' Williams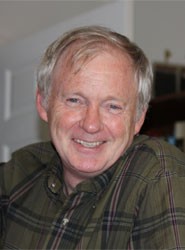 2008 D.W. Brooks Award for Excellence in Global Programs
Director, Peanut Collaborative Research Support Program
Tim Williams began his career in the National Research Program of Zimbabwe in 1969 as a physiologist looking at determinants of yield in peanut varieties. There he was part of a team that established world record peanut yields on farmer fields.
In 1980, he joined the International Crops Research Institute for the Semi-Arid Tropics based in Hyderabad, India. Dr. Williams leads peanut research on drought, plant nutrition, yield potential and GxE interactions. After nine years in India, he spent the next six years working for ICRISAT in West Africa where he researched peanut, cowpea and millet and the application of models in crop improvement systems.
He came to the United States in 1995 to join the University of Georgia faculty and the Peanut Collaborative Research Support Program (CRSP). Dr. Williams served as associate director of the CRSP until 1997 when he became the program director.
The Peanut CRSP connects American scientists with expertise in peanuts with counterparts in developing countries to solve problems over the full value chain for peanuts. As director, Dr. Williams focuses on streamlining research management and expanding his interest in the aflatoxin and utilization aspects of the peanut industry.
In addition to directing the Peanut CRSP, Dr. Williams serves as chair of the CRSP Council that coordinates CRSP activities and relationships with USAID and other universities.
Dr. Williams' current professional interests span the whole peanut sector and include numerous projects that involve agriculture in the realization of health. He is particularly interested in the consequences and prevention of human aflatoxicosis. Public health research lead by Dr. Williams has established that aflatoxin is immuno-suppressive in people exposed to it through their diets. He and his research team also discovered that this totally manageable toxin is exacerbating the HIV epidemic. This finding has the potential to dramatically affect world health efforts in this area.
Having published more than 120 publications in scientific journals, Dr. Williams is responsible for numerous inventions placed in the public domain. A soil moisture probe that he co-invented in 1985 was recently used on the NASA Mars probe to confirm the existence of water on the Red Planet.