Wayne Parrott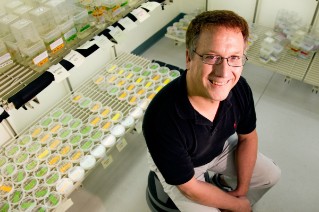 2016 D.W. Brooks Award for Excellence in Global Programs
Department: Crop and Soil Sciences

Wayne Parrott, professor of crop and soil sciences, believes that genetically improved plants will help feed the world, and he's traveled the globe to help connect farmers and scientists with what they need to make that happen. 
Since coming to UGA in 1988, Parrott's laboratory has served as an international flagship for genetic research in soybeans and other crops. He's spent almost the last three decades not only developing new soybean varieties and researching the human and environmental safety of genetically modified crops. 
Parrott has traveled extensively in Latin America and across the globe working with legislators as they set up regulatory systems to ensure the safety of genetically modified products. 
He helped to author a first-of-its-kind risk assessment guide for genetically modified crops in Spanish, which has since been translated into Portuguese and is essential to trainings given across Latin America. 
He has also traveled to Guatemala, Honduras, El Salvador and Belize, meeting with farmers and agricultural leaders and discussing the safety of genetically modified crops and their benefits to food-insecure regions. 
"Dr. Parrott's enterprise resulted in dispelling myths attributed to biotech adoption, the shoring up of alliances among U.S. and regional policymakers and scientists, and the support of the implementation of biosafety legislation, which was grounded in science," said Robert Hoff, a retired U.S. Foreign Service officer who worked with Parrott over the years. 
His passion and ease when talking about the risks and promises of genetically modified crops has made him a sought-after source for international news media looking for experts on biotech issues and on scientific advisory boards in the U.S. and around the world.