Yao-wen Huang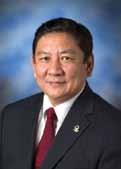 2010 D.W. Brooks Award for Excellence in Global Programs
Department: Food Science and Technology
Dr. Yao-wen Huang is an internationally-known scholar in the area of food safety, microbiology and new food product development. He is a certified trainer in Hazard Analysis Critical Control Point, Sanitation Standard Operating Procedures and ServSafe Food Safety Certification. He is a new product development professional certified by the Product Development Management Association.
In 1982, Yao-wen's international activities started with his work with the UGA Marine Extension Service. He was first to invent technology for converting a south Atlantic nuisance, the cannonball jellyfish, into a value-added edible product. The research led to establishment of U.S. jellyfish exporting industry and also benefitted the international seafood processing communities.
After joining CAES, Yao-wen continued providing assistance in seafood safety and processing technology to developing countries. He served as a U.N. Development Program expert to examine and provide suggestions on Chinese food processing and seafood technology in Beijing and Shanghai in 1991. He has since been invited to Asian countries to provide food safety training and food science education.
Yao-wen is a consultant/visiting professor at universities Shanghai Jiao Tong, Shanghai Ocean, Fujian Agriculture and Forestry, Hainan and National Taiwan Ocean and governmental agencies including Shanxi Academy of Agricultural Science and Fujian Import and Export Examination and Quarantine Bureau in China and Taiwan.
He served as major professor for many international students and visiting scholars. Yao-wen helped establish partnerships between UGA and foreign institutions and served on positions with the Institute of Food Technology, International Association for Food Protection, Tropical and Subtropical Seafood Technology Association, Chinese American Food Society and Intel International Science and Engineering Fairs.
Yao-wen was elected an Institute of Food Technologists Fellow in 2009 to recognize his innovative food safety and product development research.