Kisha Shelton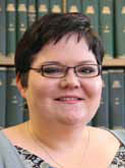 2010 D.W. Brooks Diversity Award - Staff
Department: Plant Pathology
Kisha Shelton, a program coordinator II for the Department of Plant Pathology at the University of Georgia College of Agricultural and Environmental Sciences, acts as director for the Georgia Plant Science Scholars (GAPSS) program.
GAPSS began initially as a day-and-half-long recruiting program that Kisha has expanded into a five-day educational outreach adventure in the plant sciences each summer. The visiting high school students represent a diverse population from different race, ethnicity, gender and socioeconomic backgrounds.
The program is based on a foundation of educating students about plant science. However, GAPSS also provides more than that for the students. GAPSS includes field trips to local farms and federal facilities, tours of research laboratories and greenhouses and more. Students are now often treated to visits at the Georgia Museum of Art as an effort to introduce art often used in sciences.
Kisha is also responsible for the educational outreach for the Department of Plant Pathology. This work encompasses programs and events in primary and secondary schools both in and outside of Georgia. Departmental faculty and staff have also visited groups outside of education.
Kisha has a bachelors of science in biology from the University of Alabama at Birmingham and a masters of science in plant pathology from UGA. She is currently working on a doctorate in adult education at UGA.
She is originally from rural Alabama and grew up in a family that celebrated its Native American heritage as well as its rural agricultural background. This background serves as one the main reasons that Kisha feels it is most important to share knowledge with everyone and to strive for a diverse population of students who better understand the important role agriculture plays in our daily lives.