Marco Fonseca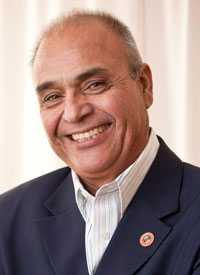 2011 D.W. Brooks Diversity Award - Special Poshumous Award
Department: Horticulture
Marco Fonseca was a native of La Lima, Honduras. Born into extreme poverty, he was the fourth of 11 children and the first to graduate with a university degree. Marco graduated from Cornell University with an undergraduate degree in agriculture and UC Davis with a master's in horticulture.
Marco was a part of the University of Georgia Cooperative Extension family for 20 years. After serving as a county agent, he became the State Master Gardener Program coordinator. He was responsible for managing the training of UGA's Master Gardener volunteers. He assisted county Extension agents in support of their Master Gardener programs, provided guidelines and educational materials for use in the training and management of Master Gardeners, promoted horticultural education and encouraged the appreciation and protection of the environment.
Those were Marco's primary responsibilities, but his unique abilities, generous nature and love for people resulted in a number of other initiatives that have changed the college, and other fortunate participants, for the better. He had a wonderful ability to bring seemingly disparate entities, from individuals to agencies, together so gracefully working towards common goals.
His expertise allowed UGA's Distance Digital Diagnostics Digital Imaging training to be extended to Honduras, Nicaragua, El Salvador, Guatemala and Cuba. His leadership resulted in a USAID/UGA grant that took CAES undergraduate students, faculty and Extension agents to Honduras over a three-year period in a cultural and technical exchange in both traditional and urban agriculture topics. Students who participated say they were forever changed by the experience.
Marco's work with the Hispanic Working Group helped frame the scope and direction for this group. He helped acquire OSHA funding for safety training at UGA, developed a Spanish track for training in urban agriculture and co-authored a safety-training manual. He successfully urged urban ag businesses to develop Hispanic training tracks, changing the course of green industry education.
Through the CAES Young Scholar Program, he helped students study abroad at Zamorano Agricultural University in Honduras. This summer saw a dream come to fruition when he arranged for three undergraduates from Universidad Nacional de Agricultura, Catacamas, Honduras to come to Griffin to work on their senior research theses. His illness did not allow Marco to participate, but Rolando Orellana was able to coordinate the visit under his guidance.
Additional resources