Marianne Shockley Robinette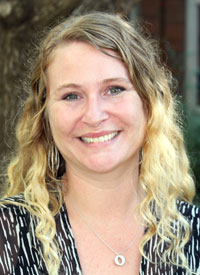 2011 D.W. Brooks Diversity Award - Staff
Department: Entomology
Marianne Shockley Robinette received her bachelor's degree in biology from Georgia College and State University in Milledgeville, Ga., in 1997. She received her M.S. (2001) and Ph.D. (2009) degrees from the University of Georgia Department of Entomology. Her M.S. degree, under the advisement of Dr. Ray Noblet, focused on investigating the effects of algae on the efficacy of Bacillus thuringiensis var. israelensis against larval black flies, a medically important vector of river blindness.
In 2001, the entomology department hired Marianne as their program coordinator. Using the Tuition Assistance Program, she began a part-time Ph.D. focused on researching and assessing science teaching and learning in higher education by introducing, integrating and evaluating service-learning courses in entomology.
Marianne became the department's academic professional associate in 2010. In this role she coordinates entomology undergraduate academic programs and the college-wide applied biotechnology major. She also teaches courses like entomology outreach and service-learning and entomology for teachers.
In the area of diversity, Marianne was the key individual responsible for the development of the insect natural history study aboard course taught in Costa Rica. She also developed a second study abroad course, medical entomology, which was offered this summer in Ecuador.
Outside the college arena, Marianne coordinates the entomology department's outreach programs that reach some 10,000 high school students from Athens to Atlanta. She recruits undergraduate and graduate minority students to assist her in presenting these programs.
Marianne's success as a teacher is rooted in her teaching philosophy. In her words, "Students are all unique, and the teaching techniques utilized must be just as varied to accommodate differences in learning styles so that students are empowered to reach their own maximum potential. As educators, we should not only instill a desire to learn in our students but also to highlight the importance of our students being socially conscious throughout their lives. It is increasingly important for teachers to serve as examples to their students, sources of advice and guidance when needed, and as an inspiration. It takes a special individual to teach, to be an instructor, and ultimately to inspire."
Additional resources