Paul A. Thomas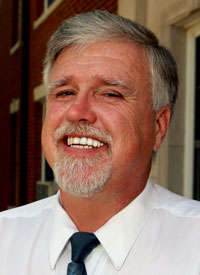 2011 D.W. Brooks Diversity Award - Faculty
Department: Horticulture
Paul A. Thomas is a professor of floriculture and member of the graduate faculty at the University of Georgia.
He earned a B.S. degree in botany and a M.S. degree in plant and soil science from Southern Illinois University and a Ph.D. in plant physiology from Pennsylvania State University.
Paul worked as education/greenhouse director at the Chicago Botanic Garden and as greenhouse manager at Southern Illinois University before accepting the position of research scientist at the USDA/ARS Northern Regional Research Center in Peoria, Illinois.
Next, he joined the faculty at UGA where he serves as the State Extension Specialist in floriculture. In this position, Paul plans and implements regional and state programs involving the greenhouse and florist industry. He currently serves on the American Floral Endowment Education Committee as a grant reviewer.
In addition to his Extension responsibilities, Paul teaches greenhouse management and interiorscaping classes.
Outside the classroom and the greenhouse, Paul co-advises the UGA College of Agricultural and Environmental Sciences' chapter of Minorities in Agriculture, Natural Resources and Related Sciences (MANRRS). Paul attends MANRRS meetings, works with student officers and facilitates trips to cluster meetings. He also coadvises the CAES Young Scholars Program, a mentoring program aimed at under-represented high school students. Paul has served as a mentor for the program since its inception and several of his mentees have placed in the program's research competition. He is also a member of the CAES Office of Diversity and Multicultural Affairs Advisory Committee.
He has also served as a judge for the Peach State Louis Stokes Alliance for Minority Participation, the UGA sponsored Youth/Minority Science Programs, the Georgia Junior Science and Humanities Symposium and the Georgia Science and Engineering Fair.
Paul has also hosted students through the Hispanic Student Intern Exchange Host and Mentor program through the UGA Office of International Public Service and Outreach. His most recent intern, Javier Mantilla Compte, became his graduate student and successfully completed a masters degree in horticultural economics.
Additional resources