Calvin Perry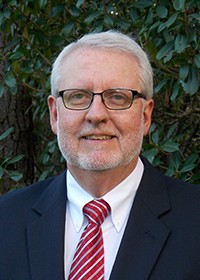 2017 D.W. Brooks Award for Excellence in Extension
As the superintendent of the University of Georgia's C.M. Stripling Irrigation Research Park (SIRP), Calvin Perry's work impacts the lives and careers of people across the nation and world.
He is able to communicate the research and importance of water conservation and irrigation to people of all backgrounds and ages thanks to his knack for communication and extensive range of experience. From co-sponsoring Mitchell County, Georgia, 4-H's 4-H20 Day Camp and serving on the Lower Flint-Ochlocknee Regional Water Planning Council to communicating with farmers each day, he can do it all in the field of irrigation studies and communication.
"I find in Calvin the qualities of an outstanding member of Extension due to his passion, service and commitment to his field," said Laura Perry Johnson, associate dean for UGA Cooperative Extension. Perry's scholarly research for industry professionals, his work educating youth and his water conservation efforts impact everyone.
Perry graduated from UGA with bachelor's and master's degrees in agricultural engineering in 1986 and 1988, respectively, and has served the university for nearly 30 years. He held positions as a research engineer and public service assistant at UGA's Coastal Plain Experiment Station in Tifton, Georgia, from 1989 to 2008. In that time, he helped to develop and patent the Crop Yield Monitoring System with other engineers at UGA's Tifton campus. The system is a precision agriculture tool that helps farmers identify, via maps, the parts of their fields that provide the best and worst yields and determined how to improve or avoid those areas. In addition to this research, Perry held county Extension agent trainings and worked with farmers on precision agriculture. In 2008, he became the superintendent of SIRP, a facility that is now a national leader in agricultural and conservation research.
Glenn Cox, a fifth-generation farmer in Mitchell County attests to Perry's professionalism and his humility. Cox owns Longleaf Ridge Farms and produces a variety of crops, including sweet corn, peanuts, field corn and soybeans.
"I have spent many years entrenched in the debate over water among the three states, often targeting producers in the Lower Flint for irrigation," Cox said. "That is why I greatly appreciate and support not only the Stripling Park, but also Calvin's leadership over the last several years in leading the way for innovation and conservation for irrigation technology."
Since taking control of the research park in 2008, Perry has upgraded the infrastructure to include three new wells, irrigation system hardware and new farming equipment. He has also updated information technology hardware and software, including a remotely accessible webcam. Perry's research at the park includes continued development of variable-rate irrigation (VRI); various irrigation studies, including the efficiencies of drip and sprinkler systems; and energy savings studies. In addition to supervising employees, Perry hosts irrigation and water management workshops for stakeholders, such as farmers, consultants, industry clients, environmental groups, U.S. Department of Agriculture employees and Extension agents. In total, about 900 to 1,300 people visit the park every year.