Clint Waltz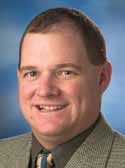 2013 D.W. Brooks Award for Excellence in Extension
Clint Waltz joined the University of Georgia Turfgrass Team in September 2001 as a turfgrass Extension specialist. Located on the Griffin campus, he has program leadership responsibilities in all turfgrass management areas.
Waltz conducts research projects in many areas of turfgrass management, especially evaluating how various turfgrass species respond to the environmental stresses of the Southeastern United States. He has published in scientific journals and trade magazines. He also makes regular contributions to the newsletters of state associations.
Additionally, Waltz makes numerous presentations to turfgrass professionals, from golf course superintendents and county Extension agents to homeowner groups. He has also been responsible for the UGA turfgrass website www.GeorgiaTurf.com.
Waltz serves as ex officio board member for the Georgia Urban Agriculture Council, which includes professional lawn care, sports field management and sod production. Additionally, he serves the golf course industry by serving on the Georgia Golf Course Superintendents Association education committee and water task force.
Waltz received his degrees from Clemson University. He completed his doctorate in the area of soil amendments for golf course putting greens.
Additional Resources