Julia Gaskin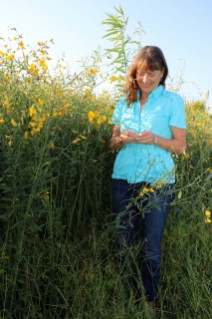 2016 D.W. Brooks Award for Excellence in Extension
Department: Crop and Soil Sciences
For the past 16 years, Julia Gaskin has worked to prove that conservation tillage and cover crops don't have to be dirty words when it comes to conventional farming. 
Through her work with University of Georgia Cooperative Extension, U.S. Department of Agriculture's Southern Sustainable Agriculture Research Education and Georgia Organics, Gaskin has worked with farmers to incorporate methods associated with organic agriculture into traditional farming practices. 
"Building bridges is not always easy when people don't see eye-to-eye, and it can be a lonely job," said Alice Rolls, executive director of Georgia Organics. "But Julia did just that through focused perseverance and a genuine commitment to our soils and the livelihood of our farming community." 
Gaskin developed a Cover Crop Nitrogen Availability Calculator, which allows farmers to incorporate cover crops with traditional fertilizer requirement calculations, simplifying the incorporation of conservation-minded practices into traditional farming. 
Gaskin has also been awarded over $1.5 million in grant funds to support research and extension in sustainable agriculture. The Beginning Farmer Rancher Development grant, in partnership with Georgia Organics and Fort Valley State University, helps new farmers develop profitable and sustainable operations.
Gaskin led the charge to equip county Agriculture and Natural Resources agents across the state with the tools they need to help the growing number of organic and Certified Naturally Grown farmers working in Georgia. Through workshops, Extension bulletins, and the SustainAgGA.org website, Gaskin raised the profile and strengthened UGA Extension's Sustainable and Organic Production Team, which incorporates entomologists, plant pathologists, agronomists, animal scientists and plant breeders.