Samuel Aggrey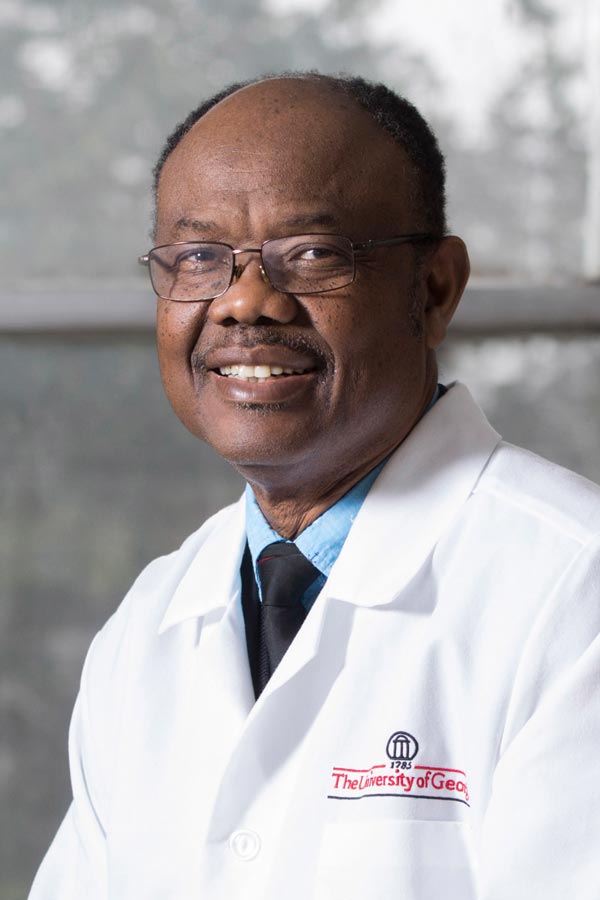 2022 D.W. Brooks Faculty Award for Excellence in International Agricultural and Environmental Sciences, Samuel Aggrey
Samuel "Sammy" E. Aggrey is a Richard B. Russell Chair and Professor in the Department of Poultry Science at the University of Georgia College of Agricultural and Environmental Sciences.
Aggrey earned his doctoral degree in population and quantitative genetics at the University of British Columbia, Canada, and was a Natural Sciences and Engineering Research Council of Canada postdoctoral fellow in molecular genetics at McGill University in Montreal, Quebec, Canada.
He joined the UGA faculty in 1999 and has been a faculty member in the UGA Institute of Bioinformatics since 2006. Aggrey is an affiliate scientist at the Biosciences Eastern and Central Africa (BeCA)-International Livestock Research Institute and pillar leader for capacity-building with the African Animal Breeding Network (AABNet).
Aggrey's research includes developing models for genomic selection, nutrigenomics, molecular and cellular bases of stressors (heat and coccidia infections), and poultry breeding. Aggrey is a co-editor of the book "Poultry Genetics, Breeding and Biotechnology" and the lead editor for the book "Advances in Poultry Genetics and Genomics."
He teaches poultry breeding at the undergraduate level and postgraduate courses in population and quantitative genetics and breeding strategies. He also co-teaches an international course on quantitative genetics and genomics at BeCA and AABNet.
He has authored or co-authored nine book chapters and more than 140 peer-reviewed research publications. His notable awards include Jaap Memorial Lectureship at the Ohio State University, the D.W. Brooks Award for Excellence in Research, Career Development Recognition at UGA, the Broiler Research Award from the Poultry Science Association, Changxin Chu Fund from the China Agricultural University Educational Foundation, a Carnegie Fellowship from the Carnegie Institute, and the Paul B. Siegel Research Award from the World's Poultry Science Association.
Aggrey has consulted for the poultry breeding industry, the Bill and Melinda Gates Foundation, PROJ-X, and Kuwait National Research Institute, among others, on animal improvement-related projects.