Debbie Purvis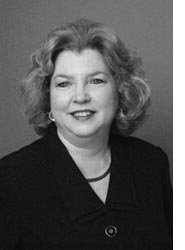 2004 D.W. Brooks Award for Excellence in Public Service Extension
Mrs. Debbie Purvis, County Extension Agent, Colquitt County, has distinguished herself as an outstanding faculty member that is held in the highest esteem by educators and co-workers at the state and national levels. Her superior performance is a model for all Extension agents to emulate. Mrs. Purvis engages the University and College at the county level. She addresses issues until the issue is resolved. She implements a comprehensive evaluation process whereby she documents the measurable impact that her educational programs have on the clientele.
She is a creative innovator that has consistently piloted or developed subject matter that is now the model for Georgia and the nation. As the Family and Consumer Science agent in Colquitt County, Mrs. Purvis has received grant dollars totaling in excess of $231,000 to reach food stamp eligible audiences with nutrition and food safety education. She is actively involved in University of Georgia research through projects such as Faculty Research Grant Pilot Study, A Profile and Needs Assessment of the Latino Migrant Population and Smart Kids Fight BAC, a multi-state food safety curriculum.
To prepare Mrs. Purvis for her work with the increasing Latino population in Colquitt County, she attended the University of Veracruz, Mexico, "Reaching Georgia's Latino Population via the Cooperative Extension Service" study tour. With the addition of bilingual staff trained by Mrs. Purvis, the Food Handler Certification training required by the Health District for food service employees is offered in both Spanish and English. In addition, the recipient has taught ServSafe, a national food safety and sanitation course to 194 food services managers. To further her work, she led in the procurement of the Risk New Communities Project Grant for Voz de la Familia-(Voice of the Family)-a family centered community outreach program designed to help build healthy, strong, and self-sufficient families for rural Georgia. Through a collaborative effort with the Ellenton Clinic Farm Worker Health Services via these grant dollars, Mrs. Purvis has provided nutrition and food safety education as it relates to the prevention of chronic disease through farm site programming to nearly 1000 Latino farm workers since 2002.
Others issues that Mrs. Purvis has addressed and has demonstrated remarkable outcomes include: Child Care Provider Training, Diabetes Education, Nutrition Education for Preschool Children, Nutrition Education for Teen-age Mothers, she created this curriculum and piloted the program within Georgia; now implemented nationwide. Also, Eating Right Home Study Course and the School Nutrition Program, which has trained 2396, school lunchroom employees with 14,200 educational contact hours within the past decade within the school systems of Southwest Georgia.
As a result of Mrs. Purvis' leadership abilities, she has served on numerous UGA College of Agricultural and Environmental Sciences' committees, is a recent recipient of the prestigious Walter Bernard Hill Award for Distinguished Achievement in Public Service and Outreach from the University of Georgia and has received numerous awards from professional associations. Her participation in her professional association, National Extension Association of Family and Consumer Sciences, (NEAFCS), is well documented. She chaired the National Awards Assessment and the National Sponsorship Task Force that resulted in a program increase of 106 applicants. She has used her talents to promote the skills and attributes of other Georgia Consumer Scientists. During her tenure as vice president of the Georgia Affiliate, Mrs. Purvis had a banner year in awards participation. That year, under her leadership, the Georgia Association of NEAFCS had the distinct honor of having five national winners.