James Jacobs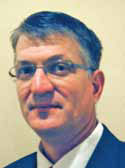 2013 D.W. Brooks Award for Excellence in Public Service Extension
James Jacobs is the agriculture and natural resources agent for the UGA Extension offices in Pierce and Ware counties. He began his Extension career in 1995 and has since gained recognition for his research and educational efforts on a variety of crops. He is also recognized as an Extension leader, serving as a mentor for new county coordinators and promotion candidates.
Since 1998 Jacobs has been involved in 15 research trials, evaluating suppression methods for Tomato Spotted Wilt Virus. He has also assisted a local olive producer since 2007 on the first commercial planting in the state.
Jacobs has conducted three international farm tours and presented/co-presented research efforts at national and regional events. He re-established the Pierce County Market Hog Show after 15 years. He has also been directly involved in securing $12,565 in sponsorship and generating $66,803 in livestock sales for the show.
Jacobs is a graduate of the UGA College of Agricultural and Environmental Science, earning his B.S. degree in animal science in 1995 and Master of Extension degree in 2001. James currently resides in Brantley County with his wife Heather and their three children.
Additional Resources