Joann Milam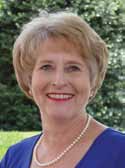 2010 D.W. Brooks Award for Excellence in Public Service Extension
Joann L. Milam has planned and conducted issue-driven programs in family and consumer sciences for the past 11 years as a University of Georgia Cooperative Extension agent in Washington County. An alum of the UGA College of Family and Consumer Sciences, she has distinguished herself as a highly respected UGA faculty member.
Joann's timely educational programs are the only access to chronic disease and nutrition, parenting, food safety, child care training and financial management that many of the citizens in her rural county have. She is highly regarded for her outreach, knowledge and teaching ability in the areas of diabetes and nutrition.
In her area of the state, physicians regularly refer their patients to her classes. She has reached nearly 600 clients through a 5-hour diabetes education and management program she developed.
In 2009 she presented her programming efforts on diabetes at the Fifth Annual Health and Obesity Conference in the United Kingdom. She has written or cowritten grants and proposals that have generated over $800,000 in funding. She helped her clients save over $327,000.
Joann has served on various college and university committees and as mentor to four new Extension agents. She works with the Washington County Chamber of Commerce on numerous youth and adult programs. She is presently involved in the advanced Extension ExTEND leadership development program.
Joann was selected as one of the inaugural Association of County Commissioners of Georgia/Cooperative Extension Fellows in 2008. Through this program, she developed a wellness initiative designed for county commissioners to use across the state. Following up on this endeavor, she now has Wellness Counts programs in place for both county and city employees in Washington County.
Joann is an active member of Georgia Extension Association of Family and Consumer Sciences (serving as president in 2006) and the National Extension Association of Family and Consumer Sciences. She has received five national awards, six regional awards and 22 state awards from NEAFCS.