Kathy Baldwin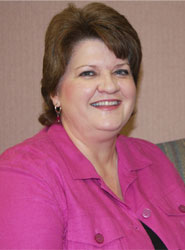 2008 D.W. Brooks Award for Excellence in Public Service Extension
Because of her 4-H experience, Kathy Baldwin knew from the time she was a senior in high school that she wanted to someday be a county extension agent. After graduating from Auburn University, she realized her dream by working with Alabama Cooperative Extension.
A few years later, she moved to Georgia where, for the past 24 years, she has been an agent in Bleckley County. During her first few years with University of Georgia Cooperative Extension, she completed her Master of Public Administration degree at Georgia College and State University.
For seven years, she had a split 4-H and Family and Consumer Sciences assignment before becoming the 4-H agent and lead 4-H agent in a cluster of counties in 1991.
She works daily to encourage the 750 4-H'ers she leads to be the best they can be.
During her tenure, 35 of her 4-H members have become master 4-H'ers. Five have become county extension agents and one is currently employed on the state 4-H staff.
Mrs. Baldwin is recognized by the local school system as a partner in education. She was instrumental in securing funding for a community collaborative that addresses the problems families and children face. She has served in numerous community and professional leadership positions, including chair of the local United Way board, chair of the Community Collaborative, president of the Georgia Association of Family and Consumer Sciences and poster sessions chair for the 2007 NAE4-HA National Conference.