Peggy P. Bledsoe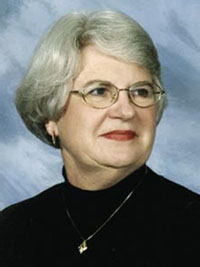 2007 D.W. Brooks Award for Excellence in Public Service Extension
Peggy Bledsoe has distinguished herself as an outstanding University of Georgia College of Family and Consumer Sciences professional. Her innovative educational programming has earned state, regional and national recognition.
Having lived in Houston County since 1975, Mrs. Bledsoe has observed its rapid transformation from a rural county to a fast-growing urban area. Focused on improving the quality of life in her community, she uses university research to address issues impacting her clientele.
A noted leader in food safety education, in 2003 Mrs. Bledsoe launched Operation Eatery, a food safety education program designed for food service employees. A $48,000 grant allowed more than 800 employees to complete this course, which has been recognized by the National Association of City and County Health Officials as a successful training model. Collaborating with New Connections to Work and the local technical college, Mrs. Bledsoe successfully integrated this program into workforce preparation curriculum. Teaming up with County Environmental Health, she has trained more than 700 restaurant managers in food handling techniques. Now, her expertise is often requested by colleagues when developing similar programs.
Working with the Houston County Library System, Mrs. Bledsoe was instrumental in obtaining an $18,500 grant to develop 300 teaching tool kits for individuals working with young children. "Kits for Kids" supports the principle of reading early and often to children.
Having a parent deployed is a stressful experience for children. Mrs. Bledsoe responded to this community need with the development of Camp Robins, a five-day residential camp for 11 to 14 year olds with deployed family members. After two successful seasons at Robins Air Force Base, the camp was incorporated into the 4-H youth development program and offered statewide.
Persistent poverty plagues southwest Georgia. As a member of the district poverty task force, Mrs. Bledsoe was awarded $42,000 to implement programs to fight poverty in the region.
Mrs. Bledsoe's Extension career spans 29 years with appointments both in Talbot and Houston counties. She has provided leadership to the Houston County Extension staff since 1996, giving strong support to a total Extension program.
Since the inception of the Georgia National Fair, Mrs. Bledsoe has been instrumental in the development and evaluation of the Georgia Living Program. She has been selected to serve on numerous college and university committees, including the Academy for Professional Excellence, CAES Faculty Council, resource development for the Urban Initiative and faculty search committees.