Rick Reed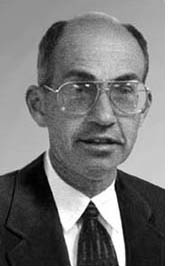 2001 D.W. Brooks Award for Excellence in Public Service Extension
Peers, researchers and university leadership recognize Senior Public Service Associate Rick Reed's top-notch Extension educator qualities. An expert in conservation tillage, he plays a major role in providing direction to a $198.5 million agriculture industry. Reed serves as the Coffee County Extension Coordinator.

In his 27 years with Cooperative Extension, Reed has become well known and respected across Georgia as a solid thinker, innovator and promoter in the areas of agriculture and natural resource conservation. Growers and researchers alike consult Reed for practical information on sustainable, ecologically based cropping systems.
According to one researcher: "His leadership in promoting pioneering initiatives has brought major benefits to Georgia agriculture, while also spawning significant national and international impact on the advancement of ecologically based sustainable agricultural principles. He and his growers are clearly viewed and respected as regional and national leaders. He is regularly sought by farmers, scientists, consultants, advocates, etc., for his advice and guidance. It is clear from these interactions that he is a 'broad, creative thinker' with an excellent balance of pragmatic and progressive practice."
Reed's leadership of numerous workshops, tours and presentations in South Georgia has earned him regional, national and international recognition. He recently hosted the Southern Sustainable Agriculture Working Group Field Tour during its annual meeting in Georgia. He has presented papers at several statewide events as well as in other southern coastal plain states.
Reed has also led the way in establishing a new commodity: Georgia sweet carrots. This alternative crop provides much-needed additional cash flow to South Georgia farmers. Because of his leadership and tireless effort, the carrot cooperative has reached sales of $1.8 million and has expanded into neighboring counties.
A researcher who has worked with Reed on several projects, including the Total Systems Approach to Crop Production with Cover Crops and Conservation Tillage and carrot production, says: "These two programs have made positive impact not only on agriculture in surrounding counties but also on agriculture in the rest of the state of Georgia. These programs are well known around the United States and also in other countries. Visitors from many states and from other countries have come to see these programs first hand."
As his creative educational programming demonstrates, Reed's efforts are not one dimensional.
Through the Douglas Natural Pride Composting Project, he has hosted numerous tours showing Georgia Environmental Protection Division and county officials how to use municipal waste in a unique way.
He has written grants that have amassed more than $783,300 in funds for his county programs. His leadership was critical in securing a grant for $375,000 for the development of the South Georgia Youth Park. This facility will host regional events to develop leadership and character education for area youth.
Reed was the first county agent to offer a Master Gardener Volunteer Training Program in a rural area and helped expand the program to a regional effort.
He has received professional recognition by the Georgia Association of County Agricultural Agents as well as the National Association of County Agricultural Agents.