Ronnie Barentine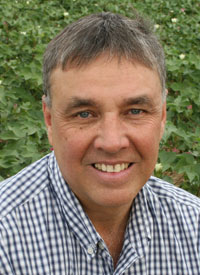 2011 D.W. Brooks Award for Excellence in Public Service Extension
Ronnie Barentine has served as the county extension coordinator in Pulaski County since 1994. He is responsible for coordinating and providing leadership for the Extension program there, including programming in agriculture and natural resources and support for family and consumer science and 4-H. He also plans agriculture and natural resource programs for Pulaski County's $65 million agriculture industry.
Ronnie is regarded by many as the national leader and Georgia's foremost county agent authority in the area of conservation and sustainable agriculture. He was invited to participate in the U.S. Department of Agriculture and the National Association of County Agricultural Agents' Sustainable Agriculture Research and Education "Fellows Program." He is one of only four nationally-selected county Extension agents in the U.S. to earn this honor.
He has made incredible contributions to the peanut industry by developing the "Peanut Intensive Management Program" to assist peanut producers. He also advanced the peanut industry by discovering the peanut disease, Diplodia collar rot.
Ronnie has played a significant role in the adoption of conservation systems and technologies. He has dedicated his career to the agricultural needs of some 300 local farmers. With his pioneering work in conservation tillage, he helped Pulaski County farmers become more profitable and sustainable.
"Ronnie has had a very positive impact on farming practices in Pulaski County…he has been instrumental in solving problems in conservation tillage…all our farmers now practice conservation tillage," said farmer Barry Martin of Ronnie's devotion to agriculture.
His efforts earned him the coveted Walter Barnard Hill Award in 2009. The Hill award recognizes distinguished achievement in public service and outreach by UGA faculty.
Additional Resources