Sandra F. McKinney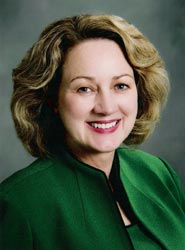 2006 D.W. Brooks Award for Excellence in Public Service Extension
Sandra McKinney has excelled as a University of Georgia Cooperative Extension 4-H youth development professional. Her innovative educational programs have garnered state, national and international recognition.
Under Mrs. McKinney's direction, Crisp County 4-H was one of five youth groups in the world selected to receive the Albert Schweitzer International Youth Group of the Year awards for their environmental work in the areas of waste management, beautification and education.
She developed the "Survive and Thrive in the World of Work" program for youth in rural counties. This workforce development curriculum was selected as a national USDA Program of Excellence.
Another Crisp County project, "Taking the Sting Out of the Mosquito Threat," was the only 4-H project in the nation selected to appear on a video showcasing exceptional after-school programming. As a result of her work, the 4-H'ers working on the mosquito control project received over $12,000 in college scholarships.
Mrs. McKinney was selected to serve on the National Youth Directions team and to represent Georgia at the National Leaders Academy. She helped youth develop the "Let Your Voice Be Heard" youth leadership program that received national funding to build local leaders.
Leading youth to accept differences was the concentration of her "Down Syndrome Support" program, which received regional and state diversity awards. A national public television network selected her 4-H program to showcase in their youth educational segments. Crisp 4-H was also selected for the Governor's Cultural Rural/Urban Youth Exchange program.
Persistent poverty in rural Georgia creates challenges for young people and their families. Mrs. McKinney addressed this pervasive problem by developing the "Georgia 4-H Youth Saver" form used across the state and serving as a chair of the southwest district "Growing Your Pot of Gold" youth financial literacy conference.
Mrs. McKinney served as chair of the committee that developed the training materials, "This Is Georgia 4-H," used for all newly hired 4-H program assistants. She also serves on the National Association of Extension 4-H Agents board of directors. She is the co-chair of the 2007 NAE4-HA conference to be held in Atlanta for over 1,200 4-H youth professionals.
She has worked with Extension for almost two decades with appointment in Jeff Davis, Dooly, Wilcox and Crisp counties and on the west district and Georgia 4-H staffs.
Mrs. McKinney has been married to Lonnie for almost 30 years, and they have three sons. She serves on the Cordele-Crisp County Chamber of Commerce board of directors and is very active in her community and her church.