Wade Parker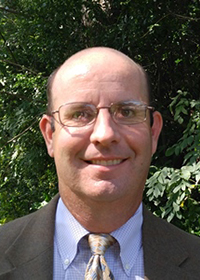 2017 D.W. Brooks Award for Excellence in Public Service Extension
Wade Parker has worn many hats throughout his career with University of Georgia Cooperative Extension, but his devotion to serving farmers across Georgia and around the world has remained constant.
Parker's professional demeanor and devotion to agriculture and the mission of UGA Extension has served the state well since he began his career in 1998.
Parker obtained his bachelor's degree in crop science from UGA in 1998 and his master's degree in plant protection and pest management from UGA in 2000.
He started his career as an Agriculture and Natural Resources (ANR) agent in Mitchell County, Georgia, and went on to serve as a 4-H Youth Development, ANR agent and, eventually, county Extension coordinator in Jenkins County, Georgia. Today, he is the Southeast District ANR program development coordinator for UGA Extension.
Producers and Parker's colleagues can attest to his skill as an Extension agent, but his professional composure while dealing with major issues and crises has made him invaluable within UGA Extension.
Former UGA Extension cotton agronomist Guy Collins credits Parker's leadership during the extremely dry 2011 spring planting season for preventing a panic among producers.
"He was able to convey the official Extension management guidelines and convince many producers to adopt them," Collins said. "This approach resulted in many farmers obtaining an acceptable cotton stand while minimizing any negative reaction from our friends in the cotton industry. As a result of this dilemma, more emphasis is now placed on seedling vigor ratings in on-farm cotton trials."
Parker works with researchers across the College of Agricultural and Environmental Sciences and farmers across his region to produce on-farm research data that literally changes the way farmers work and saves them hundreds of thousands of dollars. From variety trials to his work on southern corn rust, Parker works to find solutions for producers in southeastern Georgia.
He has also used his Extension expertise to impact the lives of farmers outside Georgia as well.
Because of production issues and a widespread lack of education and technology, Haiti has not been able to remain competitive in the marketplace and can produce less than half of the food its citizens need every year. In 2012, League of Hope, an Atlanta-based nonprofit, approached Parker with a request for him: to teach a weeklong, farmer-to-farmer workshop using his expertise in soil science and plant pathology.
The workshop received very positive feedback. Ninety-two percent of participants found the topics helpful for their farms, and 88 percent said that the workshop improved their knowledge of soil and amendments.
As a 4-H Youth Development agent in Jenkins County, Parker saw a teachable moment in the 2004 presidential election.
Along with the Jenkins County Family Enrichment Center, Parker helped to facilitate a Kids Voting program in which kids could cast their "ballots" alongside their parents and other adults.
"Kids Voting is an excellent program that teaches kids about the voting process and gets them into the habit of voting," said Wanda Burke, Jenkins County election superintendent.
The program was educational for students, but also impacted their parents, and voting rates increased by 10.1 percent in Jenkins County compared to the 2000 presidential election.
Parker's inventive programing and devotion to his field make him an asset to the state of Georgia and beyond.