Andrew H. Paterson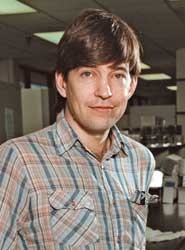 2005 D.W. Brooks Award for Excellence in Research
Department: Crop and Soil Sciences
Dr. Andrew H. Paterson is a UGA Professor with joint appointments in the Department of Crop and Soil Sciences and the Department of Genetics. He is a highly creative and productive scientist and an internationally recognized authority in the field of plant genomics. In 1992, he was named a Distinguished Research Professor.
Dr. Paterson serves as Director of the Plant Genome Mapping Laboratory which consists of approximately 40 UGA research scientists. He is also Director of the National Science Foundation Comparative Grass Genomics Center, Director of the USDA-IFAFS Center on Reducing the Genetic Vulnerability of Cotton, and Co-Director of the Genes for Georgia Initiative. Dr. Paterson is perhaps most widely recognized for his expertise in the application of modern technologies to genome mapping and QTL localization. His work addresses the fundamental questions on the structure and organization of crop genomes.
He also actively uses this knowledge to improve crop germplasm important to the producers of Georgia. His unusual combination of training in classical crop improvement approaches, together with experience in molecular biology and genomics, has positioned Dr. Paterson to be a pioneer in revealing the inherent genetic potential of many major crops. His laboratory has built the world's leading genetic maps for a long list of major crops including cotton, peanut, Bermuda grass, sugarcane, and sorghum.
Crop plants are widely recognized as being genetically complex, in some cases with much larger quantities of DNA and larger numbers of genes than the human genome. The unifying theme that Dr. Paterson's research has focused on is the development and application of methods to simplify such large genomes into their component parts. The impact of his achievements is readily measurable. He has identified more than 100 genetic loci in the peanut that confer resistance to a wide range of pests and diseases. He has demonstrated that genes conferring perenniality and rapid spread are shared by a wide range of grasses. This discovery is highly promising for advancing the productivity and quality of turf and forage grasses. Dr. Paterson has also demonstrated the identification of genes that preserve the quality and productivity of several crops under drought, promising improved cultivars that can make a high quality crop with less water.
Dr. Paterson has authored or co-authored more than 150 publications, 97 of which have appeared in the six and a half years that he has been at UGA. His publications have appeared in some of the world's leading science journals such as Nature (4), Science (2), Nature Genetics (1), and the Proceedings of the National Academy of Sciences (5). He has also authored two books, 37 book chapters, five popular press articles, six patent applications, and 122 invited presentations. He has been invited to present his research results at numerous prestigious national and international meetings. He has served and continues to serve on many national and international scientific committees, including advisory boards for Sao Paulo State, Brazil and the Rockefeller Foundation. Dr. Paterson has received more than $22,000,000 in grants to support his research.
In addition to his research accomplishments, Dr. Paterson has mentored postdoctoral scientists and graduate and undergraduate students. He has advised or co-advised 41 M.S. and Ph.D students, and has mentored 39 postdoctoral associates, 74 undergraduate students, and four Young Scholar students. According to Mrs. Patricia Clifton, Coordinator of the UGA CAES Young Scholars Program, Dr. Paterson has been very nurturing to the Young Scholar students he has mentored. He has directed their understanding of appropriate laboratory procedures. Because of Dr. Paterson's mentoring, these students gained many skills which have enabled them to have extended employment in the lab.
Dr. Paterson has contributed to agricultural problem-solving through intrinsic low-cost genetic solutions that are environmentally benign and permanent. His focus on the development and application of methods to simplify large genomes into their component parts has allowed the tools of genomics to benefit agricultural producers, processors, and consumers.