Darrell Sparks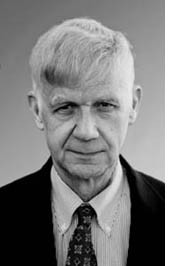 2001 D.W. Brooks Award for Excellence in Research
Department: Horticulture
Colleagues around the globe know Professor Darrell Sparks as "Mr. Pecan." His focused research effort has revitalized the pecan industry, doubled yield per acre and resulted in great ecological savings for growers.
Dr. Sparks joined the faculty of the department of horticulture at the University of Georgia in 1965, with the primary assignment of researching physiology and management of pecans. At that time, pecans were grown in scattered orchards around Georgia, but they were managed more as cow pastures than as orchards containing a high-value crop.
The problem limiting sustained, viable commercial production in 1965 was alternate or cyclic bearing of the trees. That is, pecans would produce a reasonable crop one or two years, only to be followed by very low yields in other years. Thus, growers could not reliably produce pecans.
Dr. Sparks immediately began researching this problem and made two profound discoveries. First, he demonstrated that individual trees within an orchard are not all on the same cycle, and that individual trees could in fact have two or more productive years before having an off year. Secondly, Dr. Sparks demonstrated that year-round shoot vigor had a great impact on tree nut production. Through basic physiology and applied research, he proved that leaf retention was essential for healthy shoots, which impacts current year production.
Using this information, growers initiated management strategies, including irrigation, aimed at enhancing shoot vigor and leaf retention. Because of Dr. Sparks' research, pecans were revitalized as a crop and a national surge in new orchards occurred. Pecans are now considered a high-value crop that requires intense year-round management.
The pecan industry has also benefited from Dr. Sparks' studies into pecan nutrition; little was known about it until his pioneering efforts. He instituted leaf analysis as the barometer for the tree's nutritional status, established the optimum time for leaf sampling, and identified nutrient deficiencies and critical leaf concentrations of both minor and major plant nutrients for the crop. These findings helped greatly reduced defoliation of important cultivars, which led to enhanced nut production. Today growers throughout Georgia -- and around the world -- fertilize pecans based on leaf analysis.
Dr. Sparks has worked in many other areas aimed at reliably increasing pecan nut production during his more than 35 years at Georgia. These have included a range of projects including basic biology, research pertaining to pecan flowering and applied research concerning aphid management.
Most recently, Dr. Sparks has used his years of experience and observation to develop a model for predicting Georgia pecan production. The model, based primarily on climatic factors, improves marketing strategies via a production estimate. More importantly, the model has identified factors influencing production and nut quality, thus resulting in improved orchard management. This work received the 1996 Most Outstanding Fruit & Nut Crop Publication Award from the American Society for Horticultural Sciences (ASHS). Together, these various research efforts with pecans were instrumental in Dr. Sparks receiving the 1998 Outstanding Researcher Award by ASHS, followed by his being elected as a Fellow of the Society in 2000.
He has published literally hundreds of scientific and popular articles about pecans.
Sparks' esteemed career at Georgia has brought statewide, national, and international recognition to the University of Georgia.