Joseph F. Frank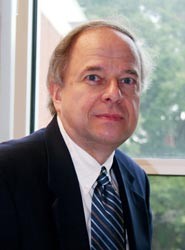 2006 D.W. Brooks Award for Excellence in Research
Department: Food Science and Technology
Joe Frank, a professor of food science and microbiology at the University of Georgia, grew up in rural Wisconsin where he worked in his father's cheese and butter factory.
He earned a bachelor's of science in bacteriology from the University of Wisconsin-Madison in 1972, and then earned a master's of science in 1974 and a doctorate in food science in 1977 from the same institution. While there, he worked under the direction of Dr. Elmer Marth. After earning his doctorate, he was awarded a Dairy Research Foundation postdoctoral fellowship at the USDA Eastern Regional Research Laboratory.
He has been on the faculty of the University of Georgia since 1977 and currently teaches food microbiology courses in the department of food science and technology. From 1999 to 2001, he served as interim head of the department.
Dr. Frank's research covers the microbiological safety of ready-to-eat foods and the role of bacterial cultures in dairy product quality. His research accomplishments include demonstrating the role of biofilm growth in the survival of Listeria monocytogenes in food processing environments, development of methods for the direct observation of viable pathogenic bacteria on food tissues treated with antimicrobials and discovery of the ability of capsule-producing lactic acid bacteria to improve the texture of low fat dairy products.
Dr. Frank has advised 40 graduate students to the completion of their degrees. He teaches courses on marvelous and malevolent microbes, food fermentations and advanced food microbiology.
As a result of his research on cultured dairy products, Dr. Frank received the Gist-Brocades Award for Cheese and Cultured Dairy Products from the American Dairy Science Association.
He is an active member of the Institute of Food Technologists, the American Society for Microbiology, the American Dairy Science Association, the International Association for Food Protection (IAFP) and a founding member of the Georgia Association for Food Protection. He was elected a fellow of IAFP in 2005.
Dr. Frank currently serves as scientific editor for the Journal of Food Protection, the leading scientific journal dedicated to food safety research. He has also published numerous research articles on topics as varying as direct microscopic observation of viability of Campylobacter jejuni on chicken skin treated with selected chemical sanitizing agents; changes in the microflora of commercial soft goat milk cheese during refrigerated and frozen-storage; microbial attachment to food and food contact surfaces; and heat inactivation of E. coli in apple juice exposed to chlorine.