Katrien Devos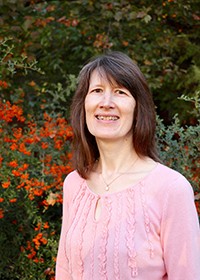 2017 D.W. Brooks Award for Excellence in Research
Department: Crop and Soil Sciences

For more than 25 years, Katrien Devos has focused on the future of plant breeding and agriculture.
From mapping the genomes of orphan crops, like finger and foxtail millet, to tracking the genetic evolution of agronomic and wild grasses, Devos has played an integral role in the development of a more food-secure world.   
Her interest in plant genetics started during her undergraduate career. She conducted her doctoral research on wheat, and her Triticeae genetic mapping was conducted at the Ghent University in Belgium and at the John Innes Centre in Norwich, England. She received her doctorate from Ghent University in 1992.
Devos continued her career at the John Innes Centre, where she was a pioneer in the field of grass comparative genetics. She was the driving force behind the development of "crop circles" mapping, which demonstrates the relationship between different grass genomes at the genetic level.
She also studied millet as a food crop for the developing world.
In 1996, Devos received a highly competitive David Phillips Fellowship from the U.K.'s Biotechnology and Biological Sciences Research Council (BBSRC) to establish a fully independent research program in the U.K. As a BBSRC Fellow, she made landmark contributions to the field of comparative genomics and genome evolution.
She also continued her research on millet and was an integral part of a team — led by the International Crops Research Institute for the Semi-Arid Tropics — that developed the first pearl millet cultivar that was bred for improved downy mildew resistance using marker-assisted breeding. The impact of replacing older varieties with this downy-mildew-resistant, early-maturing variety has been estimated at more than $15 million per year.
In 2003, Devos joined the University of Georgia and took up joint appointments in the College of Agricultural and Environmental Sciences Department of Crop and Soil Sciences; the Institute of Plant Breeding, Genetics and Genomics; and the Franklin College of Arts and Sciences Department of Plant Biology. At UGA, she established a broad research program that combines basic and applied research to a range of target crops: wheat, switchgrass, seashore paspalum and millet.
A key achievement in this field involves the isolation of an economically important dwarfing gene in pearl millet. The d2 dwarfing gene is the first gene responsible for an agronomic trait in pearl millet to ever be isolated. This was especially apt because d2 semi-dwarf pearl millet varieties were developed by Glenn Burton in Tifton, Georgia.
Devos played a leading role in the development of the foxtail millet genome sequence and is currently focusing her efforts on bringing finger millet breeding into the 21st century through the development of genetic and genomic resources for the finger millet community. She is also simultaneously working with local, national and international colleagues to employ these resources to gain insight into the spatial and temporal divergence of the finger millet blast fungus and the genetic basis of its interaction with its finger millet host. Her research into sequencing the finger millet genome helped to secure a $1.8 million grant by the National Science Foundation to improve the finger millet genome sequence, to generate a quality assembly and to study a fungal pathogen that affects yield loss in finger millet.
Devos was awarded the UGA Research Foundation's Creative Research Medal for her work on orphan crops. She was also elected an American Association for the Advancement of Science Fellow in 2016. Devos continues to be a pioneer in the field of plant sciences through her cutting-edge research and passion for her work.