Timothy Grey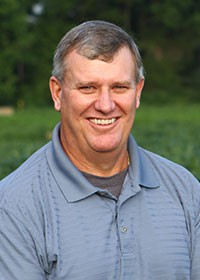 2014 D.W. Brooks Award for Excellence in Research
Department: Crop and Soil Sciences
Dr. Timothy L. Grey is a professor of weed science at the University of Georgia Tifton Campus. He grew up and maintains close ties to his 2,500-acre family farm in central Kentucky. He holds an undergraduate degree from the University of Kentucky, and master's and doctoral degrees from Auburn University.
Grey has been with the College's Department of Crop and Soil Sciences since 1999, and in Tifton since 2002. He has established himself as a leader in the areas of herbicide dissipation in the environment, in soil and from polyethylene mulches; herbicide-resistant weed control; production of agronomic and alternative crops; and weed control in vegetables and tree nut systems.
Grey is active in the department as a member of the UGA Graduate School faculty, where his guidance promotes training students in proper research, evaluation and reporting techniques. He serves as a member on the Graduate Admissions Committee for the Department of Crop and Soil Sciences and for the college's master's degree programs in plant protection and pest management.
Along with his graduate students, he has presented research at regional, national and international meetings. Grey is author and co-author on more than 100 refereed journal articles. He has served as chairman and member on regional, national and international weed science society committees and currently serves as editor for the journal, Peanut Science, and as associate editor for Weed Science.
Additional Resources