William K. Vencill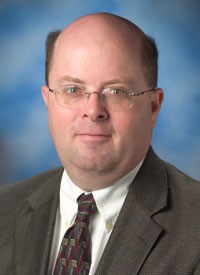 2014 D.W. Brooks Award for Excellence in Teaching
Department: Crop and Soil Sciences
William Vencill joined the University of Georgia Crop and Soil Sciences Department in 1989 as a weed scientist with a split research and teaching appointment.
Bill holds a bachelor's degree in environmental science from the University of Virginia at Wise and a masters degree and a PhD in plant physiology/weed science from Virginia Tech.
His research areas are herbicide physiology, herbicide persistence in soil and water and weed management in cotton, corn, and soybean. Bill has authored or co-authored 56 refereed journal articles, 140 conference papers or abstracts and 25 technical research reports and related publications.
In the classroom, Bill team-teaches courses in pesticide management, integrated pest management and toxicology of agricultural and industrial chemicals. He also teaches an introductory weed science course and a graduate course in herbicide physiology and is the CSS department's undergraduate coordinator. His weed science course is taught every fall and is a required course for crop science, turfgrass management and plant protection majors. An external reviewer of the course said "Dr. Vencill does a tremendous job of making slide shows, video clips and written assignments available on the website."
One of his peers dubbed Bill "the cornerstone" of the CSS undergraduate teaching program. His colleague continued by saying, "It's amazing how he continues to perform at such a high level in both teaching and research while doing such an extraordinary job as our undergraduate coordinator."
His students agree. One current student refers to Bill as "one of the most qualified teachers and advisors" at UGA. "As a professor, Dr. Vencill exhibits a true concern for students to learn and understand the material and the reasons why certain things work the way they do in agriculture."
Bill selects very qualified teaching assistants, yet he can often be found attending labs to make sure his students truly grasp and understand the course material.
In addition to his classroom and research efforts, Bill served as editor of the eighth edition of the Herbicide Handbook (published in 2002) and is editor of the Journal of Weed Science. In honor of his work outside the classroom and in crop fields, he received the Outstanding Reviewer Award from the Weed Science Society in 2008. He chaired the executive committee of University Council in 2007-08 and has chaired the university curriculum committee and educational affairs committees.
Additional Resources