Michael J. Phillips
D.W. Brooks Lecture Date: 10/01/2001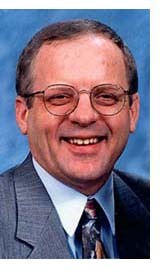 About the guest speaker
Michael J. Phillips is executive director for food and agriculture at the Biotechnology Industry Organization, the largest trade organization serving the life sciences industry.
BIO's more than 800 members represent biotechnology companies, academic institutions, state biotechnology centers and affiliated organizations in 47 states and more than 26 nations. They research and develop medical, agricultural, industrial and environmental biotechnology products.
Before joining BIO in July 1999, Dr. Phillips was the director of the Board on Agriculture and Natural Resources for the National Academy of Sciences. In this capacity, he led the board and oversaw studies, including external peer reviews and release to study sponsors and the public. Before leaving NAS, Dr. Phillips became a senior study director for special academy-wide studies.
Before working for NAS, Dr. Phillips had been director of the W.K. Kellogg Foundation study "Food, Agricultural and Resource Economics for the 21st Century." He had also been director of the Food and Agriculture Program in the U.S. Congress Office of Technology Assessment, where he developed and directed food and agricultural studies. Before OTA, Dr. Phillips had been on the faculty at Purdue University and a former staff economist to the U.S. Secretary of Agriculture.
He has authored and supervised numerous reports and studies on food and agriculture, with recent studies focusing on agricultural biotechnology.
Dr. Phillips has master's and doctorate degrees in food and agricultural economics, specializing in research and science policy, from Ohio State University and Purdue University, respectively. Dr. Phillips received his bachelor's of science degree with distinction in agricultural economics and animal science from Ohio State University.
He was raised on his family's grain and dairy farm in northwest Ohio; today he and his father manage the farm as a grain operation.